AIX-EN-PROVENCE— Whether by accident or design, July at the Aix-en-Provence Festival is Australia Month. The ever-busy Antipodean Barrie Kosky opened the month with Verdi's Falstaff and will soon follow that at the festival's same venue, the open-air Archevêché, with Rimsky-Korsakoff's The Golden Cockerel; meanwhile, the director's fellow-countryman Simon Stone is dominating the city's main auditorium, the Grand Théâtre, with two monumental productions: a stellar Tristan und Isolde and the world premiere of Finnish composer Kaija Saariaho's latest opera, Innocence.
Given that Stone's pair of shows opened on consecutive nights, the logistics of preparing them simultaneously must have required prodigious forward planning. Each was meticulously mounted on a massive scale and together they amounted to an extraordinary technical achievement. Moreover, with the exception of scenic designers Ralph Myers (Tristan) and Chloe Lamford (Innocence), the two operas shared exactly the same creative personnel. Why, then, were they booed to the rafters at one curtain call and cheered at the next?
The answer lies in Stone's relationship with composers.
Stone vs. Wagner
Wagner was the unlucky one, as Stone followed in the wake of countless Regie directors and imposed an unhappy framework. Wagner's tragedy of bewitched lovers wracked by romantic overload was appropriated by the director and used as fodder for a hi-tech toybox. His scenic tricks, inventive though they were, neither elucidated the scenario nor complemented the score as he set Act One in a luxury penthouse apartment, Act Two in a spartan office full of angle-poised lamps. and Act Three in a train on the Paris metro.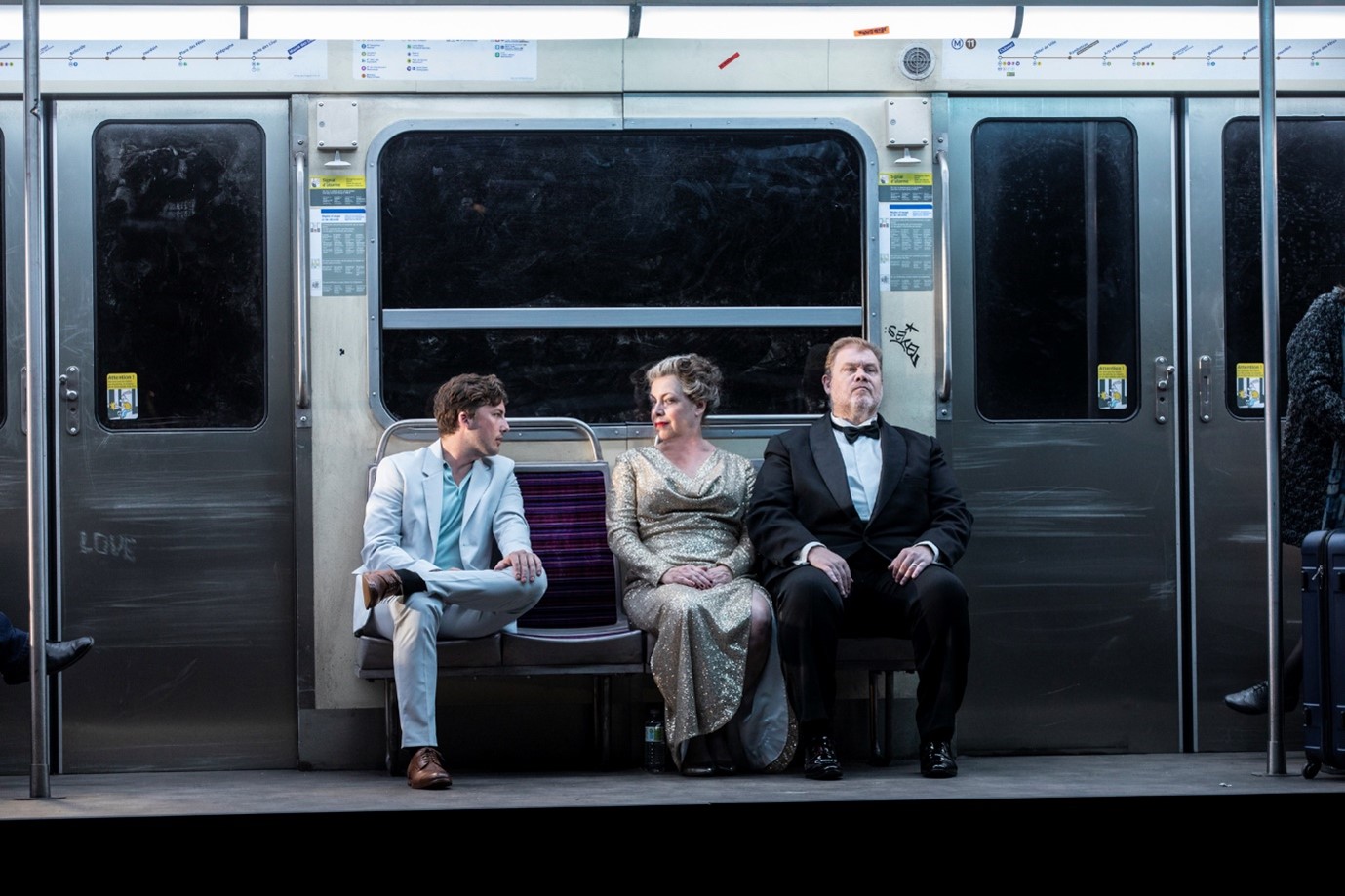 Dominic Sedgwick as Melot, Nina Stemme as Isolde, and Stuart Skelton as Tristan in Tristan und Isolde
If that sounds frustrating, it was. Dull? Not for a minute. All three environments had secrets to reveal, thanks to some dazzling lighting and video effects by James Farncombe and Luke Halls, as outwardly humdrum shared spaces were transfigured at a flicker of neon into the characters' inner worlds. Thus Stone used the opera as a repository for the private yearnings and unspoken heartaches that most people keep to themselves in a functioning society. On its own terms his concept was bold and breathtaking; however, it alienated spectators who expected empathy with what Wagner wrote (i.e. most people, to judge by those of boos) and who had hoped to be moved by the Isolde and Tristan whom we hear in their musical context.
For the booers, it hardly helped Stone's cause that from a musical perspective this was one of the great Tristans. Sir Simon Rattle and the London Symphony Orchestra held a taut line throughout the five-hour running time and added perfume and flavor to the score's iridescent passion. As for the partnership of Stuart Skelton and Nina Stemme in the title roles, it would be hard to find its equal today. Both artists, at the height of their vocal powers, delved deep inside their characters, while with Jamie Barton as a powerful, punk Brangäne and Franz-Josef Selig a resonant King Marke, secondary roles were also represented by top-drawer casts. Even Josef Wagner (Kurnewal) and Dominic Sedgwick (Melot) commendably humanized their characters.
Saariah's Innocence gets respect
Back to Stone. Whereas his Tristan jammed an ugly sister's foot into Wagner's wondrous glass slipper, the director's ideas for Innocence were molded precisely to the new opera's contours. He was aware, evidently, that for a world premiere a decent director should honor the composer's intentions, and at the curtain call Saariaho (confined alas to a wheelchair after breaking her hip) seemed justifiably delighted with his work. At first, the composer's new opera (libretto by Sofi Oksanen) shaped up to be a re-run of Thomas Vingerberg's film Festen, here a wedding party at which the loved and not-so-loved gathered to celebrate a couple's future but end up reliving a nightmare past. Unlike its Danish forebear, however, Innocence is concerned not with abuse but with the slaughter during a school killing spree. The bridegroom's father (Tuomas Pursio) is confronted by a waitress (Magdalena Kožená) whose daughter was one of the slain, because during the reception she recognizes him as the killer's father.
Innocence meditates on the invisible victims of atrocities: those left behind. The action on Lamford's two-storey revolve moves between the past and the present, with meta-realistic scenes of suffering alternating with large-as-life high drama. Saariaho's orchestral writing is by turns lush and tangy, mesmerising in its protean facility, and was exquisitely articulated by the LSO under Susanna Mälkki. With intense contributions by Markus Nykänen as the bridegroom and Sandrine Piau as his mother, this ensemble piece was a true company achievement. Overall, though, it fell to Vilma Jää as the Waitress's daughter Markéta to give the opera its beating heart – ironically so, since she was playing a ghost –delivering hypnotic vocal lines with subtle yelps and yodels, tics that removed her from the living world and seemed to place her somewhere other.
.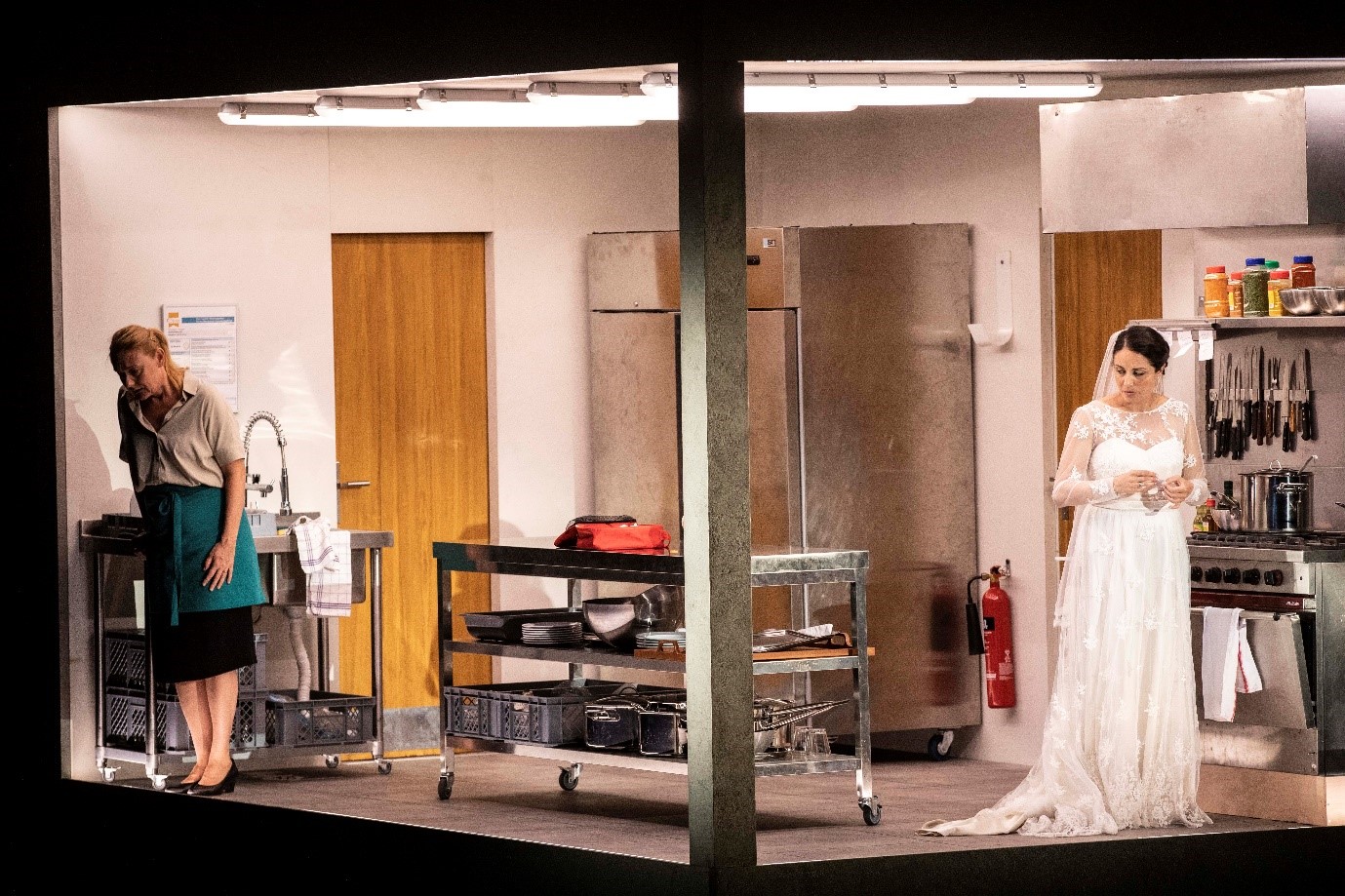 Magdalena Kožená as the Waitress and Lilian Farahani as the Bride in Innocence
The charming Italianate wraparound Theâtre du Jeu de Paume has seen some memorable chamber productions since its renovation and reclamation as a festival venue in 2000, and this year's event, Combattimento, offered something new. Conceived by director Silvia Costa using lamentations, madrigals, and airs from the 17th century, it retold the ancient Tancredi and Clorinda tragedy of star-crossed love, concealed identities, and death in battle – although without reading the program notes I'd have struggled to grasp a storyline from the hieratic performances of the eight intrepid soloists. Somber music, even when beautifully sung, as here, is fine for a gloomy litany but less suited to creating dramatic tension or establishing character.
Much as I love Monteverdi, Cavalli, Rossi and the composers of the early Baroque, it was lugubrious of musical director Sébastien Daucé to link all his selections into a relentless jukebox of downbeat choices. For all the innovative projections by Bernd Pirkrabek and the restrained beauty of Costa's own designs, an hour of this would have been plenty. Instead, for the last 45 minutes, her creativity waved a white flag and the cast whiled away the remaining time assembling, then disassembling, a model village in kit form. By the end I'd happily have joined in the latter.
Photos by Jean-Louis Fernandez