Too much of a good thing?
By: Frank Cadenhead
Beethoven's Missa Solemnis is a monument of world culture. It is not just a musical masterpiece but an extraordinary gift to our collective humanity. It is like a Michelangelo, a Titian, a Shakespeare play, a poem by Goethe – so utterly astounding that anyone has to wonder how the artist, a mere mortal, can produced a work that goes beyond the limits of time and space, creating something at once human and eternal.
Beethoven was old and deaf when it was finished and heard this work only in his mind. The complex rhythms, so difficult for the musicians, seemced easy for him. Some parts, I confess, baffle me to this day but I never think for a second that the fault is not mine. To experience it is to be as near to ecstasy as I have ever been. My favorite recording is the early Karajan one, when he was still enjoying bringing a work to life and finds much juice and originality in this work.
Banal matters kept me away from the Paris performance at the Salle Pleyel on October 8. John Eliot Gardiner was touring with his Orchestre révolutionnaire et romantique and the Monteverdi Choir. Hearing a Missa Solemnis performance with "historically informed" early-Romantic instruments and musicians who know them would certainly stretch my ears. Gardiner very rarely disappoints and is one of the major conductors of our time. The fact that he is at a senior member of the "original instruments" crowd and focuses on the baroque means that Americans, missing most of that movement, have had less contact with him. Fortunately much of his important work, his Bach particularly, has been recorded and is always recommended. His 1991 recording of the Missa Solemnis with the same forces (but different soloists) is still available.
A little item in a French classical magazine mentioned this tour and described its extraordinary extent. It started in Pisa on the 29th of September and included Cologne, Amsterdam, Baden-Baden, Bern, Vienna, Budapest, Valencia, Madrid and London (on October 17). On this stage, the soloists were Lucy Crow, Jennifer Johnston, James Gilchust and Mathew Rose. In November, with different soloists, he returns to Spain, then to America and will finish in Costa Mesa, California on 20 November. I hope the entire team has their frequent flyer cards handy. They will certainly have free trips after this tour!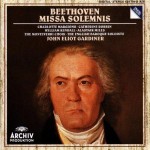 One could reasonable ask, however, how much Missa Solemnis is too much? Imagine spending two months with this man on the tour and sharing each evening with him. Does he snore? Does he always leave the toilet seat up? Yes, there are moments of ecstasy. Yes the music transcends. But playing it night after night, each time in a different hotel, each time in a different drafty hall with its own acoustical problems. I imagine that, for the musicians, at some point into the tour, this just becomes another job. Living out of a heavy suitcase and hauling it to a different room each night are accepted so you can make the payments on your house and car. If even I were obliged to listen to the Missa just every night for one week I might have to reflect on the over-the-top praise of the first paragraph. If any reader has a chance to meet this touring orchestra and its team in an after-concert party in California I would avoid the question "How is the trip so far?" There could be too much of a good thing.
Tags:
Beethoven
,
John Eliot Gardiner
,
Monteverdi Choir
,
Orchestre révolutionnaire et romantique
,
Salle Pleyel
Related posts
Tags: Beethoven, John Eliot Gardiner, Monteverdi Choir, Orchestre révolutionnaire et romantique, Salle Pleyel